Interview with Kati Lohr, Co-Founder of Synchronous Health
Imagine the next generation of mental healthcare where you don't have to wait days till your appointment with a therapist to get counseling support. Instead, you can talk to your specialist's AI extension, ready to lend a robotic ear any time.
Sounds like science fiction, right? Well, it's not. During the Health Tech Forward conference that took place in October 2022, we sat down with Kati Lohr, Co-Founder of a behavioral health support platform Synchronous Health. We talked about the new mode of mental health delivery – 100% telehealth-based, with both real specialists and an AI-therapist extension.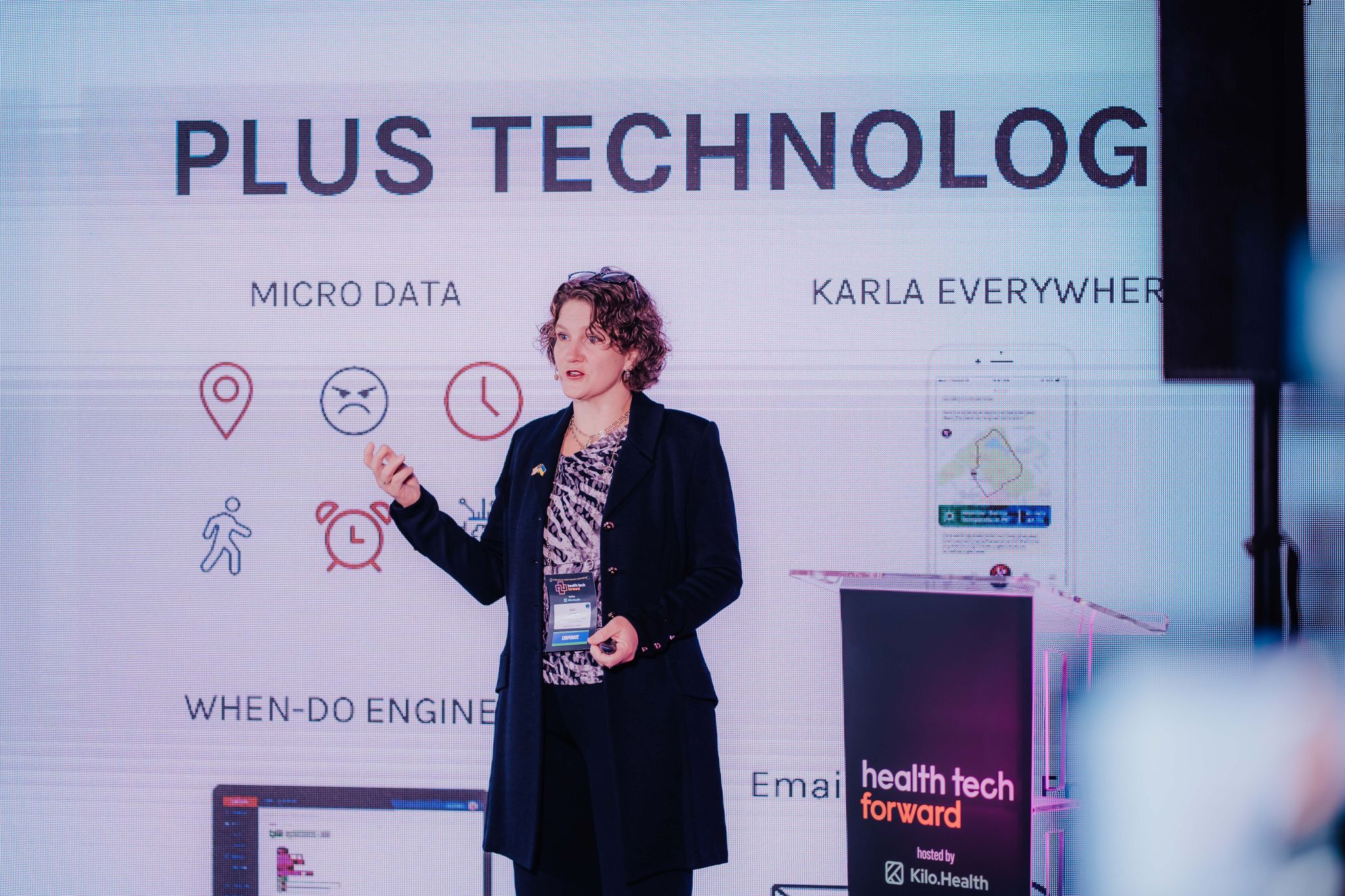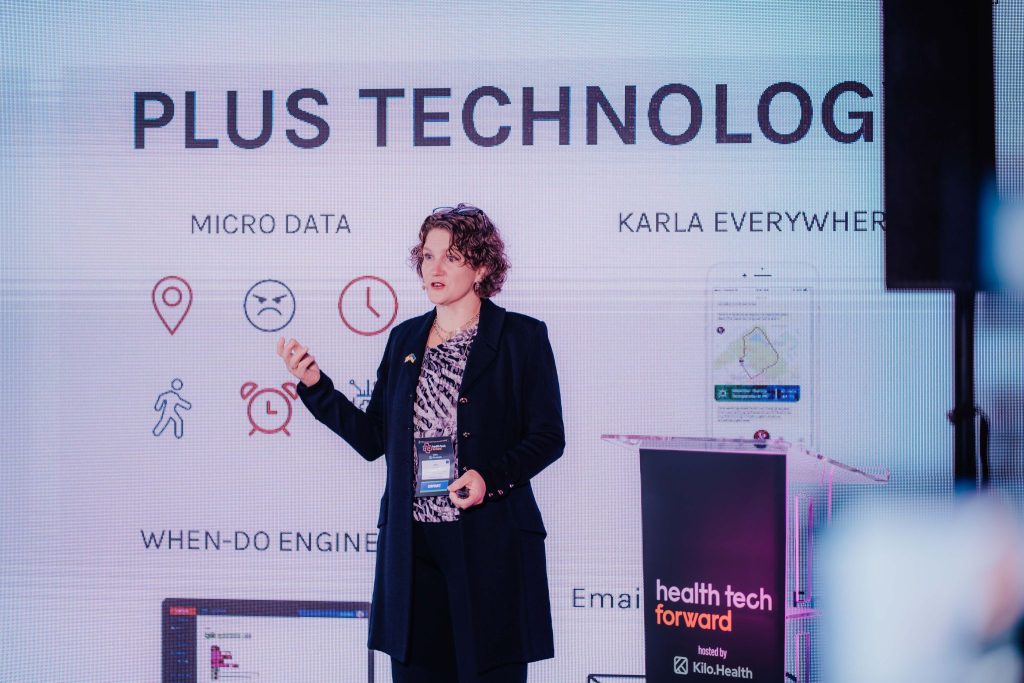 To start off, let's discuss the limitations of the traditional mental health delivery system that you saw as an office-based counselor. What are they?
The most common challenges were convenience and compliance. And these two were linked because it was often a scheduling issue that drove noncompliance.
For instance, a few sessions each week would be cancelled at the last minute or simply no-showed. And since the time was not canceled in advance, it went unused by someone else who may have been on a waiting list.
One more example is related to compliance with care plan engagement. When someone is triggered by anxiety, the brain is not in a state to recall a new skill they learned in a recent session, so people continue to experience the negative symptoms. So, one of the most common things people would say about new skills they were learning was – "I wish you had been there to remind me to try it".
So, in remote therapy, you use AI chatbots to make that possible, right?
Yes. When we started Synchronous Health, we aimed to create a time when well-being is accessible to everyone.
We wanted care to be of better quality and more efficient. And that fueled the innovation behind our patented technology driving our AI Bot, Karla, to be the therapist's extension beyond the session time.
How exactly does the therapist's AI extension work?
First, our specialists are screened for empathy to ensure they can have effective relationships via telehealth. They are then trained to program our AI Bot Karla using a simple drop-and-drag process.
Karla extends the specialists' care from the collaborative session, using the sensors on a mobile device to know when to deliver a nudge or an intervention. For example, if a patient experiences intense anxiety before a certain type of event, Karla is programmed to deliver a customized intervention before that event.
Similarly, Karla can learn to deliver medication reminders, mindfulness tools, and provide a 24/7 communication platform. It also has an "escalate to human" process to support in moments of crisis by connecting the participant directly with our crisis team or other community resources.
At Synchronous Health, we are driven to provide access to more people, which is why we have been using telehealth only, long before the pandemic.
Why do you think telehealth pairs so well with mental healthcare?
Let's look at statistics: 50% of people will have a mental health condition in their lifetime. But only a fraction of them will get the care they need.
And one of the main factors that prevent a person from getting help is accessibility to quality providers. Telehealth dramatically expands accessibility, especially for people in rural communities or other areas that don't have a provider with a mental health specialty.
With telehealth, it's also much more convenient to get care. You don't have to drive across town during provider hours, which are probably in the middle of your workday or family time.
And lastly, telehealth reduces the occurrence of stigma for people who are hesitant to seek mental health care. Often people report a sense of increased privacy if they don't have to leave their homes to see a therapist. And for example, if you are struggling with depression and have a hard time getting out of your house, you are more likely to dial into a video call – or turn to an AI assistant for help – than to drive hours to see a counselor.
Where is telemental health headed, and what will it look like in the next five years?
This is a huge question of how much technology capability changes in a given year.
I think for telemental health, we will see a continued increase in engagement by consumers and providers. Especially for those who treat or experience mild to moderate symptomatology.
We will probably see an increase in the number of collaborative care services that are provided virtually, especially in managing the comorbidity that surrounds costly chronic care conditions like diabetes and heart disease.
I also hope that in the next 5 years we see a much clearer path to interoperability of record sharing and reciprocity of licensing regulations – to have collaborative care providers be better informed on an individual's whole person's health, not just the health care received by their clinic or hospital system.
About Kati Lohr: Kati Lohr is a serial entrepreneur with leadership experience in behavioral health corporations, residential institutions and non-profits. A Licensed Professional Counselor and Approved Clinical Supervisor she is sought after as a leading expert in addictions, codependency, trauma and family systems. After decades of feeling compelled to help even more people have access to quality mental health care, she co-founded Synchronous Health Inc. 
About Health Tech Forward: Health Tech Forward is a two-day annual conference that hosts global digital health VCs, entrepreneurs, and government leaders for exclusive sessions and compelling discussions about the future of digital health.